Transform your holiday decorations from mundane to magical with DIY Christmas Tree Gnomes! All you require is a Mini Tree and a few creative supplies to get the look. Even novice crafters will soon be creating festive decorations with ease! Once complete, these personalized gnomes will be a delightful addition to your yard or home. The end result will mesmerize your friends and family, becoming a cherished holiday tradition for years to come. They make Awesome Outdoor Christmas Decorations – and it can be achieved in no time at all! So check out these ideas for inspiration.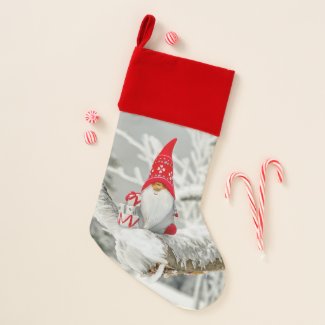 1. Pine Branches Turned Gnome

Take natural materials like pine branches and turn them into festive gnomes otherwise known as Tomte or Nisse. Red felt cut into triangles is used to make the hats. You can also use the red felt to make mittens. For the nose you could stuff some pantyhose or use a bauble.
2. Tall Tree Gnomes

Consider decorating the trees in your front yard. You don't even need a ladder if your trees are tall. Tie a sash near the base and to make the beard, white plastic tablecloths can be cut into strips and looped into chicken wire. The nose can be made from a bowl and spray painted in skin color. Use Tull and a big red ribbon for over the beard.
DIY Tree Gnomes
We're including this video by The Davis Family to show you how they made their outdoor tree gnomes.
3. Arborvitae Gnomes

Transform arborvitae into cute gnomes with supplies you have around your house! You'll need chicken wire, and for each gnome you'll need five strips of garbage bag plastic. Tie them around the wire mesh, going all the way across the first row. Make the hat edge with mesh ribbon, and the puff on the top of the hat with layers of ribbon loops. Make the beard long enough so it reaches the ground. For the noses, use red baubles. Attach the ribbon and noses with wire.
4. Santa Tree Gnomes

Turn your tree gnomes into Santa himself! Just spray the branches with white spray paint to give your tree's gnome a white beard like St. Nick's. It's an easy, fun way to bring some holiday cheer into your home – and really get into the Christmas spirit!
5. Log Gnomes

Sit your tree gnomes on logs to really set the tone of a magical winter forest. You could also add battery operated or solar powered fairy lights to make them twinkle at night.
6. Tomato Cage Gnomes

You can use a small tomato cage, zip ties, and some extra branches from a Christmas tree to make these gnomes. Arrange your branches over the tomato cage and secure them using zip zies. Make the hat with old red sweaters and use hot glue to secure it. A potato can be used for the nose.
7. Upcycled Branch Gnomes

Make use of left over branches by making this lighted gnome tree display. Use a wooden slice as the base.
8. Mini Gnomes

Mini gnomes to hang around the place can be created with little bits of left over fir which are hot glued into mini hats. You can use a peanut shell which is painted in a light color to make the nose.
9. Mini Faux Christmas Tree Gnomes

Instead of using real pine branches, these gnomes are made from miniature faux Christmas trees. The hats are made from buffalo check scarves from the dollar store while the noses are simply ping pong balls painted gold. They are then placed on adorable little boots which can be purchase from the dollar store. Adorable little festive bows are then glue onto the front of the boots.
10. Porch Tree Gnome

Create a wonderful display for your porch by setting your tree gnome among other items including lanterns.
11. DIY Dollar Tree Gnome

Make your own whimsical Gnome from items you can find at Dollar Tree – a mop, a sock, twine, a styrofoam cone, and a festive Christmas ball! This easy, creative craft is a great way to keep little ones busy.
12. Shrub Gnome

Adding an adorable touch of holiday cheer to any outdoor space, transforming shrubs into Christmas gnomes is a fun and easy project that will bring a smile to the faces of family and friends.
13. Luxury Gnome

Use gold fabric to add some glamour to your tree gnomes.